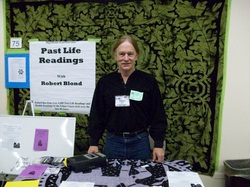 ---
History
I was born in Denver, Colorado in 1949.
As with all Divine Beings, as a small child, I had a certain awareness of who I was.
I remember have a 'magical' playmate for quite awhile, until he finally went away.
The process of conditioning had begun.
I was also brought up in the Church of Christ.
I was taught God lived somewhere up in the sky and was quite big and very judgmental.
I really enjoyed life in so many ways, playing with my friends, but life seemed somewhat strange to me when I would hear at times, that I might go to Hell if I wasn't more obedient in some way.
Just did not make sense to me to have this Being that created all that is, to be more like a grouchy uncle or something. I was basically told that all I had to do to be happy was to go to church on Sunday's, get married, and have a good job.
As I went through my teens I began to distance myself from many of ideas of the Church.
I knew there had to be a God that was loving.
I was also getting influenced by all the new ideas of the late 60's.
In 1974 I should have died in a motorcycle accident, but a 'miracle' happened.
I had hardly a scratch on me when I should have been easily killed.
This opened a new door in my life because all of a sudden I had this profound appreciation for life and then things began to take off from there.
Right after the accident an employee where I worked suggested that I read "The Handbook to Higher Consciousness', and I absorbed it in like a sponge, all of it making perfect sense to me.
All the feelings I had felt inside me but up until then could not express them.
That led me to wish to explore self-awareness and meditation.
In 1976 I got very involved with a group called The School of Metaphysics, where I developed awareness through the 'esoteric disciplines'.
Kriya Yoga, Raja Yoga, Healing, chakras, elementals, mind control, and I stayed with this group for almost 3 years.
It is also the place where I learned how to do Edgar Cayce Style Readings.
In 1979 I started my own non-profit educational organization called The Self-Actualization and Enlightenment Center.
Over time, I created educational facilities in Wichita, KS; Kansas City, MO; Tulsa OK, and then finally in Denver, CO.
It has been such a wonderful journey getting to explore all these visions of aiding the awareness of each community to evolve in the ways I could best do it, but even more so, it all helped me to evolve, to deepen into awareness.
Although I just told you about my history, I actually don't feel my history defines me presently, for being in the
present, within awareness, there is no history,
In fact stories can actually get in the way of awareness because they come only from the thinking mind, the same thing with 'memory'..
So, currently I am teaching classes and offering readings throughout the 'front range' of Colorado.
I have been giving classes from Fort Collins, Denver, Colorado Springs, and Pueblo.
I find life quite the adventure.
I still love to create 'vision' however I find the 'journey' is where all the real growth is at, and where peace and awareness can be found.